Send DPD shipments via Bol.com
If you sell products via Bol.com, you can also send these orders via the Bol.com contract with DPD. This way you can send your DPD shipments via Bol.com. Unfortunately, these competitive rates only apply to shipments that you bring to a DPD Parcelshop. Linking Bol.com to Wuunder is quite easy because you don't have to install anything. In this manual you can read how to do this.

1. Be the first to link your Bol.com account with Wuunder. Read more information about this via this link. If you want to test orders before you start "really", you can do that in our test environment.
2. To use the Bol.com rates at DPD, we need your "Client ID" and the "Secret key". You can find this in you bol.com seller account.
3. Under the heading "Services" on the right side of the screen, click on "API Settings".

4. Of course you can register Wuunder as "Technical contact" for Bol.com. Then choose "Create". Select "Wuunder" at the question "Do you want to add the client credentials for a new API user?". Optionally create test keys for the test environment and production keys for the live environment.
5. Send the keys to our customer service and we ensure that you can start immediately. Clearly indicate whether you send us the keys for the test and / or production environment.
6. Finally, paste the "Client ID" and the "Secret key" in the "integrations" page of MyWuunder.


8. You now have two choices (dropdown menu in the green button):
Import and book all orders automatically: You import and book all orders at once. The latter option is particularly interesting if you are using import rules en shipping rules works.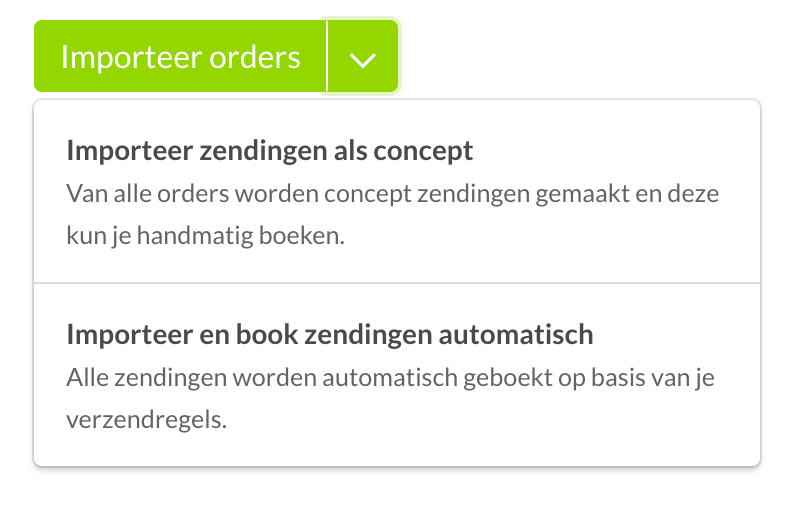 9. More information about the checks we perform and possible error messages such as the lack of a pick-up address can be found via this link.
10. If you want to know how to easily send these imported drafts in one go, click here.
11. When booking, choose the carrier "Bol.com". Your shipments will then be booked with DPD via Bol.com as if you were booking directly with DPD via Wuunder. The shipping label can be found in the usual place (Prepare).
12. If you have booked a Bol.com order, you cannot book the same order with Bol.com again. Bol.com checks whether a label has already been issued for the order and does not allow you to make a label twice for the same order.