shipping module for Teamleader
Importing contact details from Teamleader is very easy because you don't have to install anything. With the push of a button you can use all addresses to send a document, (letterbox) package or pallet with the most suitable carrier. Any returns are then just a push of a button. Follow the step-by-step plan below and within a few minutes you will have arranged the shipping module for Team Leather. Can't import? Please contact our customer service.

Installation of the Google Chrome extension
Open the Google Chrome browser and go to the Chrome Web Store. Click on "Add. to Chrome "and then" Add extension ". You will then see a confirmation that the installation was successful. In your browser you will now see the Wuunder logo at the top right. If you want to know more about configuring the Google Chrome extension click here.
Send shipments via Teamleader
Open Teamleader in a Google Chrome browser and go to the contact details page of the person you want to send a shipment to.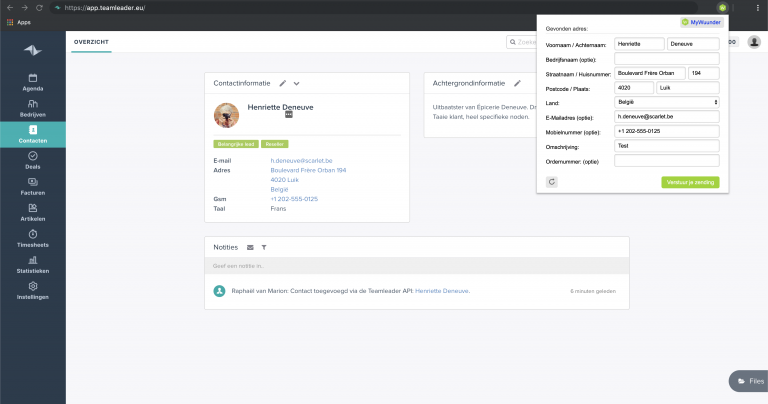 Then click on the green Wuunder icon in the top right corner of the Google Chrome browser. A drop-down screen will appear over your page.
Fill in the missing information and select "Send your shipment".
After this we will check your submitted data and you can book the shipment. Read here sea.
After every booking you will automatically return to the Google page where you were. Would you like more information about printing your shipping labels quickly? Click here.