Let customers pick up orders themselves
Automate instore or CURBSIDE pickups
Link your shipping process to the 'pick it up yourself' shipping service and say goodbye to manually retyping your address details. The various shipping services are automatically displayed clearly per order, so that you can book shipments at the touch of a button. In addition, we also automate the pick-and-pack process in your warehouse and the printing of shipping labels via our smart shipping software.. You can always print a shipping label, even if your customer picks up the order at a (store) location. This also comes in handy if you send 'normal' shipments.
Increase convenience and speed when collecting shipments
While processing orders, automatically generate a shipping label for shipments that your customers will pick up themselves. By sticking each label on the correct packaging, it is very easy to keep shipments apart afterwards. As soon as your customer comes to pick up the order at the (store) location, you can quickly find and hand it over.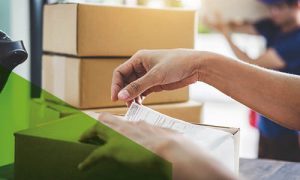 JUST FOLLOW THE NEXT STEPS LISTED BELOW
Activate the check-out option in your webshop
Mention the collection option on all communication channels such as your website, social media, etc.
Book the shipment automatically or manually
Generate a shipping label for your own transport organization
Monitor whether the shipping label is printed in the warehouse
Easily find the order
Deliver the shipment based on the address details on the label without any effort
OFFER YOUR EMPLOYEES AND YOUR CUSTOMERS EXTRA SAFETY WITH CURBSIDE PICK-UPS
Curbside pickups - a 'drive-thru' option with an experience similar to a fast food chain. It is indispensable in the United States, but still very unknown in Europe. With this option it is possible to collect shipments from a shop or business premises. Enter the registration number and color of the car via the MyWuunder system and place the order directly in the trunk of the car as soon as the customer enters the site. We cannot make it safer or easier.
Combine the 'collection by the customer' option with other carriers?
Wuunder collaborates with more than 300 suitable carriers. Do you want to know which other carriers are connected or what their qualities are? Then take a look at the page about the most used carriers.