How optimally are our packages distributed?
We now know that the online purchasing behavior of the Dutch consumer has increased enormously in recent months. But more online orders also mean more package vans on the road. And how optimally are these packages delivered? After all, parcel buses (running on petrol or diesel) contribute to air pollution and cause traffic disruption. Just think of the narrow canals in Amsterdam, where parcel buses often have no place to park: traffic jam! That is why in this article we look at the possibilities for using electric means of transport in cities as an alternative to the parcel bus.
The parcel bus: polluting & hindering traffic
Parcel delivery in cities is still often done using the standard parcel box. However, due to the increasing number of orders, this form of transport is under pressure. It contributes to air pollution within the city and there are no good parking options for delivering and loading and unloading the packages. Consequence? The vans must park in places where parking is prohibited. This in turn leads to traffic disruption. Or delivery staff must park further away from the delivery address, which increases the 'standing time', which has consequences for the delivery time of other packages.
In addition, an increase in the urban population means that traffic is much busier. This also ensures that packages are regularly delivered with a delay. Reason to think about a new way of delivering parcels in cities.
In 2018, Coolblue was the first e-commerce company in Europe to take the step of delivering small parcels with an electric cargo bike. At the time, Eindhoven and The Hague were the first cities to use these pack bikes. Meanwhile, the blue electric bicycles are used in almost all major cities in the Netherlands. But what are the advantages and disadvantages of this cleaner and perhaps more effective delivery method?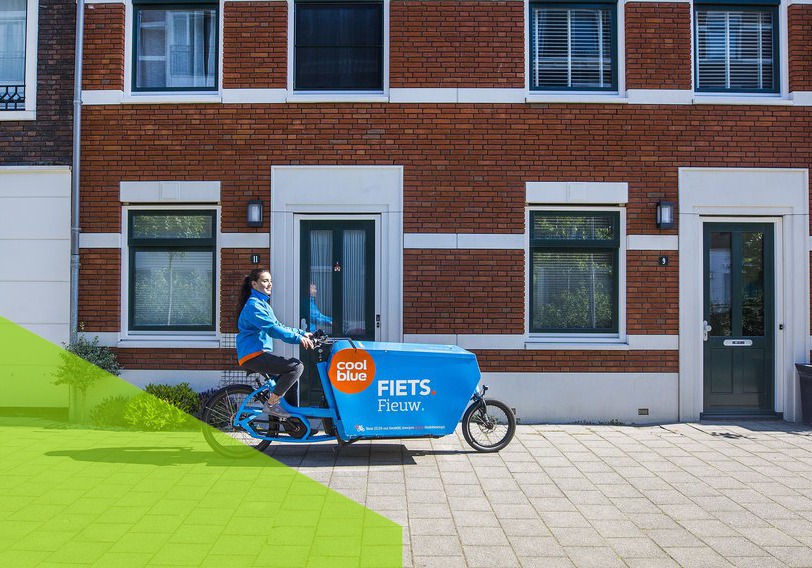 The package bike: more agile & environmentally friendly
The use of cargo bikes is much more agile than parcel buses, as they can park easier and closer to the delivery address and have access to routes where a van cannot reach. Easier parking causes less traffic nuisance and parking closer to the delivery address reduces the 'standing time' and the chance of delay. Electric cargo bikes are also much more environmentally friendly than vans that run on petrol or diesel. But the other side of the story is that cargo bikes can transport far fewer packages and they don't go as fast as a package van.
Research to this form of transport, mixed results indicate whether a distribution system based on cargo bikes is more efficient compared to a system based on parcel buses. In several studies, a combination of the two forms of transport has been proposed, in which the parcel bicycle is used for the 'last mile', or the last part of the delivery. So no more buses in the city, but an environmentally friendly alternative.
The environmentally friendly alternative does not only have to be a parcel bike. If you only use this form of transport, you will soon run into the capacity problem. For example, online supermarket Picnic uses small electric cars. Still green, still agile, only it fits just a bit more than in a packet bike and they also ride a lot faster.
Make use of distribution hubs
The combination of a distribution system with both packing boxes and environmentally friendly alternatives works more optimally with the use of distribution hubs. Hubs are smaller warehouses, often just outside the city, where carriers with parcel buses deliver the parcels. From the mobile hubs, the packages with more environmentally friendly means of transport are brought to the customer. For example, the package buses remain outside the city.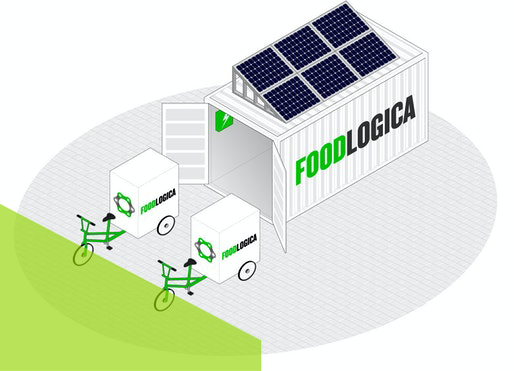 Food Logica stands for green city transport. The company offers external warehouses in the form of beautiful white sea containers with solar panels. These warehouses can be found within the city limits. From those warehouses, the packages are transported further into the city with environmentally friendly means of transport. It's all about zero-emission and keeping parcels out of the city center. Food Logica is currently active in Amsterdam.
Looking at the sustainability of the distribution process, we can say that the process is certainly not optimal for most packages. Several companies show us that it can also be done in a greener and more city-friendly way. A distribution system based entirely on cargo bikes is not efficient due to time and capacity. A combination of parcel buses and other environmentally friendly alternatives is already bringing us a step closer to a more optimal and environmentally conscious distribution system. It is also important in logistics to keep thinking about sustainability.
At our 300 affiliated carriers, there are various bicycle couriers and some package carriers, such as DPD and Save your package, who also want to contribute to 'zero-emission' transport. Wuunder also wants to do his best to realize CO2-friendly transport. That's why we use cities as often as we can bicycle couriers and we work together with last mile experts. For example, we merge shipments from several carriers so that the number of parcel buses in the city remains as low as possible. Do you want to know the possibilities in terms of more sustainable shipping with Wuunder? Then take it contact with us!
Discover all services of Wuunder
Ship with even more options and extras?