More delays, but no more worries!
First aid for delayed shipments
In the article 'the importance of a good return policy' It has already been strongly stated that the entire e-commerce country is experiencing a gigantic growth spurt as a result of the corona virus. The number of package shipments is currently significantly higher and has long since surpassed the Black Friday and Cyber ​​Monday crowds. Despite the tremendous efforts made by carriers, this continued flow of e-commerce orders is increasingly causing significant delays. This also notices Logistiek.nl en PostNL, they warn of delays in parcel delivery and drivers are under extreme pressure. Because in times of corona the promise 'ordered today, delivered tomorrow' often cannot be fulfilled, they feel the hot breath of consumers who are increasingly asking questions about where the shipment is going. As an online retailer, this will not go unnoticed within your own company, chances are that your customer service department will be flooded with demand. "Where is my shipment going?". How do you ensure that more delays no longer cause worries and that you do not get stressed because of this? Well, that's simple! Send with Wuunder!
GOOD PREPARATION IS HALF THE JOB
'Good preparation is half the job', they say that for a reason. The better you anticipate on the current situation, the greater the chance that the delivery of your packages will go smoothly. In this article, we are therefore happy to share what we can do for you, so that we can not only help you as an online retailer, but also keep your customers satisfied.
all your shipments followed proactively
Although delays are inevitable today, we try to ease the "pain" for both your own business and your customers as much as possible. We keep a close eye on every shipment so that we immediately intercept shipments that have experienced delays. As soon as we detect a delay, we take immediate action without you having to order it. We report the delay directly to your customer and contact the carrier. We send the status of the shipment directly to your dashboard so that you, as the sender, can immediately see that we are working on it. This way everyone is fully informed about the progress of the shipment and this prevents a lot of unpleasant situations. Of course we do not give up and we will continue to do so until the shipment has actually been delivered to its final destination.
This service is available free of charge when you use Wuunder's convenient transport contracts. Of course it is also possible to activate this service on your own transport contract.

Stay one step ahead of the question 'where is my shipment going' ...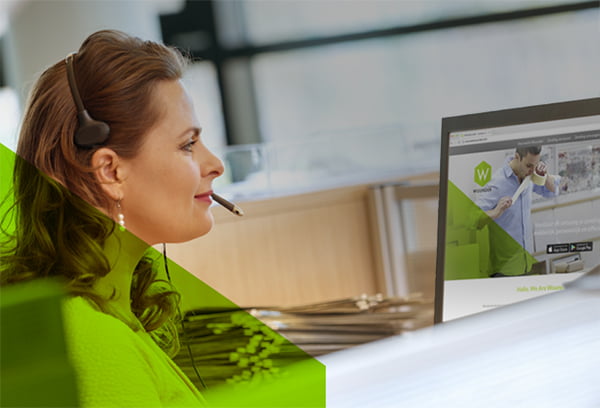 Especially in times of corona, there is a realistic chance that as an online retailer you will also experience an increase in the number of orders. That is of course fantastic! Yet this also results in extreme crowds at many online retailers. Communicating well with your customers is always important, but completely in this situation. However unfair, once your packages have been on the road longer than you promised, it can lead to image damage for your business. And that is the last thing you want! By communicating openly and honestly to your customers, in most cases you create more understanding of the situation. As an online retailer, do you completely overflow in your work and do you no longer know where to take the time to answer all your customers' questions? Then we may have the solution!
Activate our multilingual customer service and all transport related questions from your customers will be forwarded directly to us. All you have to do is transfer your phone and we'll just answer with your company name. This not only gives you more satisfied customers, but also saves you a lot of questions in your customer service department.
REDUCE THE RISK OF DELAYS
When you send a package in times of corona, you have to take into account on average a doubling of the term. In order to make delivery as smooth as possible in the current circumstances, we advise you as an online retailer not to limit yourself to one carrier. By combining multiple carriers, you can respond smartly to the specialties per carrier and reduce the risk of delays in your company. Use package carriers for orders that may take a little longer, Express carriers for packages that need to arrive at their destination the next day, and engage Sameday carriers if the shipment has to be delivered the same day.
By shipping with Wuunder, you get unlimited access to more than 300 carriers and 10.000 different shipping options and you can combine endlessly. Are you a doubter? No problem. You switch with one click from carrier or shipping option, without limit. For more clarity and peace of mind for your own company, it is also possible to let your customer choose the method of delivery at the check-out. Easy peasy lemon squeezy!
say goodbye to shipping stress!
What you have read above is just a sample of what we can do for your business. Every day we want to go the extra mile to serve you even better with unique personal services. Why? Because we would love to support you in making the shipping process in your company as smooth as possible.
Curious what else we can offer in the field of carefree shipping or do you want to know how we can help you save time, money and worries? What are you waiting for! Feel free to contact us and we will look together to meet the biggest challenges in your company!
Discover all services of Wuunder
Ship with even more options and extras?