This is how you keep the overview in your warehouse
From the moment your customer places an order until delivery to the final destination. The shipping process always starts at the same place: in your warehouse. Is your organization struggling to maintain an overview? Learn more about Wuunder's unique warehouse services in this article, enabling you to pick, pack and ship orders in the most efficient way.
A UNIQUE BAR CODE FOR EVERY ORDER
You have collected and packed multiple orders and are ready to stick the shipping labels on your different packages. You print all labels. But there you are with a stack of labels in your hands. Which label also belongs to which order?
That could be better. When collecting your orders, you use a packing slip to determine which items to collect per order. On the packing slip you will find a barcode that communicates with our system. Scan the barcode and the correct shipping label will automatically roll out of your printer. This prevents a lot of labels from ending up on the wrong package.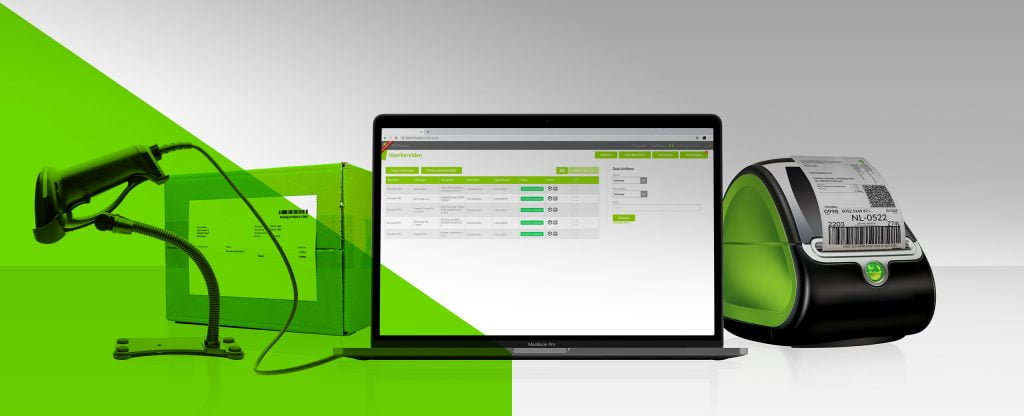 With this tool you always print the correct shipping label for every order. In other words, every order always has a packing slip and a label and contains the correct items. This not only increases the insight into the progress of your order picking process, but also reduces the error sensitivity in your warehouse.
Considering the environment, we send the delivery notes by e-mail. This allows you to scan packing slips directly from any device without printing them out. Of course, the use of packing slips from your webshop or ERP system remains possible.
NEVER CHOOSE AGAIN FROM TOO MANY PRINTERS
De scan-and-print method can be used on one or more mobile devices, laptops or PCs. In addition, this method can be linked to a specific (ZPL) label printer on each device. Choosing from a list full of printers is no longer necessary. For all packing slips that are scanned with a specific scanner, the shipping label rolls directly from the linked label printer. This way you can work with several people at the same time.
You can find the real-time status of all your orders on your Wuunder dashboard. You can immediately see which labels have been printed and which have not. As soon as a shipping label is printed, the dashboard adjusts automatically. Also useful if you work with multiple warehouses and want to see if all orders are ready on time. The result? More overview and no shipping labels that are printed unnecessarily.
More overview, also for the carriers
With detailed transfer lists that you automatically generate in the dashboard, transferring your shipments to the different carriers is also a lot smoother. At a glance you gain insight into the number of shipments that you must have ready per carrier and pick-up location. This also gives you the space to do a final check to see whether you have really packed all the orders before everything goes out the door.
Have this transfer list signed by the carrier. You can then always prove that you have given the various orders to the carrier.
Knowing more? Read in this article 5 more tips for more structure in your warehouse. Discover here how to pick, pack and ship orders in your warehouse as efficiently as possible, while also keeping a complete overview. Do you have a question? Then be sure contact us! Our specialists will help you further.
Discover all services of Wuunder
Ship with even more options and extras?