You can send fast and carefree (non-EU) shipments in various ways. Via a webshop system, a API connection or MyWuunder. This is completely automatic. If you want to check or add to the contents of an order, you can do so by clicking on an unbooked order in the "Book" screen. You will then be taken to an overview page with all the information needed to book a shipment.
Check the contact details and prevent a return
1. We try to limit the number of returns in your business by checking all contact and order details during booking. If necessary data is missing, we automatically give error messages (in red) and when we think that data is incorrect we give suggestions (in orange). In addition, we also offer possible solutions such as the correct street name or place.
Pay attention! Do you want to send something to the United Kingdom? Then two extra input fields will appear at 'Shipper' or 'Sender' where you have to enter your EORI & VAT number. These numbers will be required for shipments to the UK from 1 January 2021. Click here if you know more how to request this information from the tax authorities. If you use the API to book shipments, you read here more about automatically sending this data.
2.Collection details: Check the contact details and the address where the shipments can be picked up. If necessary, select a different pick-up address or adjust it via the drop-down menu. By selecting "Drop off yourself in a parcel shop" you indicate that no pick-up by a driver is required.
You can easily select your collection addresses where you want to have your shipments picked up regularly from the dropdown menu by creating them via "Shipping addresses". You can also add your VAT number and EORI number here, so that you do not have to enter them with every shipment. On this page you can also see if fixed collection agreements have been made with carriers. Per collection address you can see which carriers, on which days and times, pick up shipments at these addresses.
If you have a shipment picked up from a supplier (drop-shipment) or if you want to have a shipment returned, remember to mention the e-mail address. We will then automatically send the shipping label to this person.
3. Delivery information: Check the contact details and the address where the shipments will be sent. You can search for saved contact details via the drop-down menu. Create new contact details by saving them or go to "contact details". Here you can change data and add new contacts, for example, via CSV import.
Note: sending to PO Box numbers is only possible with local postal services such as PostNL and not with Express carriers such as UPS, TNT, FedEx and DHL.
4. We check whether the postal codes are in the correct format. For example, some carriers do not accept a Belgian zip code B-1234, but require 1234. Wuunder ensures that we automatically remove the letters. Don't you find this useful? Then you can turn this off via the import rules in the settings of your MyWuunder account.
5. Try to add as many e-mail addresses as possible, so that we can inform the recipient about the arrival of the shipment (track & trace) and a specific delivery time (depending on the carrier). A telephone number helps a driver to deliver the shipment more easily if he cannot find the correct address (depending on the carrier).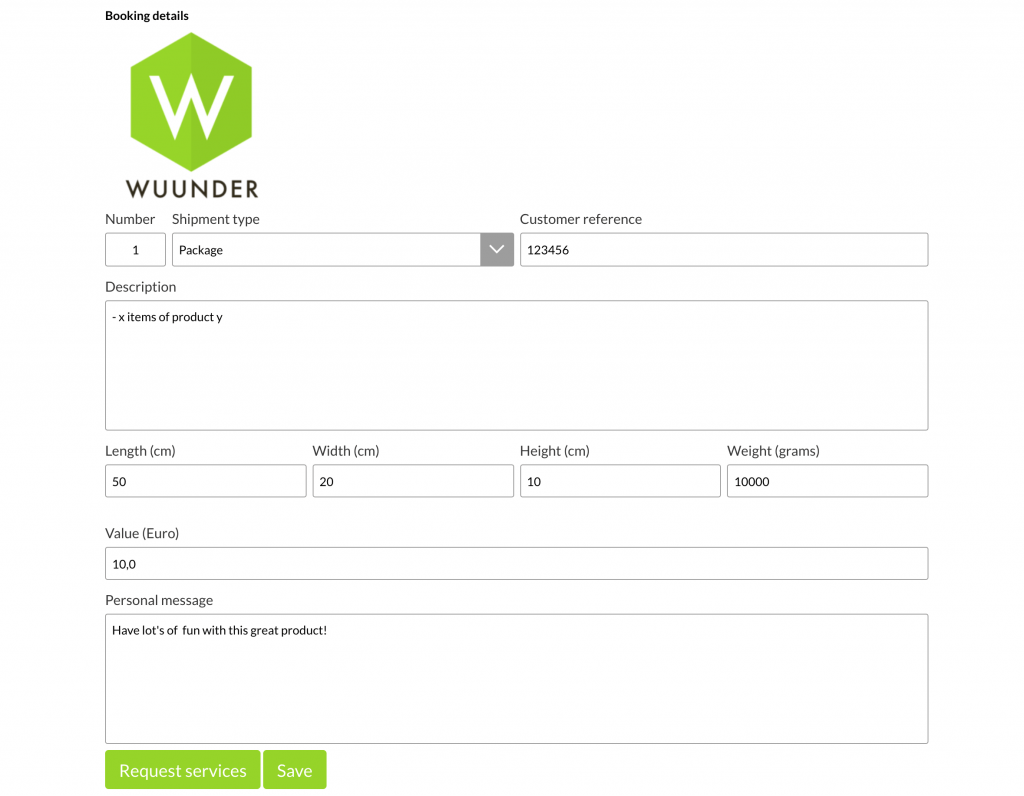 If you want to send multiple shipments to the same address, you can indicate this at "Number". For example, if you put a 2 here, you will receive 2 shipping labels.
1. Check whether the type of packaging is correct. Is the shipment indeed a document, package or a pallet? Above 30 kg, a shipment must usually be provided with a pallet. If the customer has placed multiple orders (with the same delivery address), you can of course also send the shipment as one package or pallet. Determine which outer box is required to send all shipments as one whole and adjust the data.
2. We take the order number from your webshop, marketplace or the number you sent via the API as standard. This number will also appear on the shipping label. If there is no reference number, we will use the text that appears in the description of the goods. We also use this text in the email to the recipient. If you want a standard text here, such as "thank you for your order", you can add this via the "Settings menu".
3. Are the dimensions, weight, value and contents correct? If you have not used this information in your webshop, you can use standard information. You can set this via the "Settings menu". The value is only used for specific carriers, such as UPS for, for example, insuring shipments.

Note: if the volume and weight are not correct, most carriers charge a surcharge.
4. Use the Chat message to make communication with your customer more personal. We will show this message together with the first photo that you use for the item in your webshop in the email to the recipient (if possible via your webshop system).


5. If you want to include your company logo or another photo as standard in the email to your customer, you can upload this photo in the "Settings menu".
Check the customs information
If you want to send shipments to a destination outside the EU, customs require a commercial invoice and you sometimes need to have permits.

Select "New" at the bottom of the page under order line details and indicate per item:

Number of the same items

English short description of the item

Product code and EAN code is optional and may be useful for those preparing the shipment for transport

Value (excluding VAT)

Weight

HS code

Country of origin
If you always send the same products, you can have the data filled in automatically. You can set this via the import rules in the "Settings menu". Here you can also add a blue signature to every sales invoice.
If you want to know more about the commercial invoice, read here further, and contact me if you are interested.
Click on "Save" if you want to book later or click on "Request rates" if all details are correct. After this you will come to the page where you can select the different transport services. You will find on the following page more information on this.