Is Same Day Delivery right for your business?
Gorillas, Flink, Zapp and Getir have recently brought about a huge change in the concept of 'fast delivery'. 'Ordered today, delivered tomorrow' was already very fast, but companies such as DHL Today and Trunkers have been able to accelerate this in recent years to deliver on the same day. The Q-commerce companies have now raised the bar even higher. Fast delivery is now within minutes: faster than you as a buyer could do yourself. It is good to think about this as a retailer. What do you want to offer your customer?
Physical stores have the advantage of being close to the buyer. In the past, if you really wanted to have a product in your possession quickly, you went to the retailer in your area. City fulfillment or dark stores, where goods are as close as possible to the end customer, however, blur the differences that traditionally exist between online and offline retailers. Retailers with physical stores therefore have an advantage over online retailers. However, synchronizing the stocks available in local stores with the online shop's checkout is not easy. It requires a real-time view of the local store inventory.
You often see that retailers are reluctant to use the store as a warehouse for local delivery. However, Q-Commerce and the movement that parties such as Bol.com and Amazon are making show that it is only a matter of time before this becomes commonplace. Corona has even increased the speed at which innovative logistics concepts are introduced.
More and more retailers are even going one step further and organizing and carrying out transport themselves. A good example is Coolblue. Delivering a washing machine, for example, is a difficult logistical operation. Not only must delivery be made at a desired time, but installation must also be carried out. If the experience during delivery and installation is not good, Coolblue will be taken to task for this. To reduce the risk of poor service, Coolblue started doing this themselves and they now have a team of friendly drivers and professionals in one. The next step that Coolblue has taken is to deliver by cargo bike from various local locations. We are currently seeing the same thing at Bol.com. They bought a bicycle courier, a supplier for route optimization and collected the packages themselves from their resellers.

Recent research of Wuunder among 1000 consumers shows that no less than 12 percent of the respondents want to make use of delivery within 10 minutes. A quarter of consumers who order their groceries online want them delivered the same day. Another one in ten (9%) of the Dutch consider it important that if they purchase from a webshop, they receive it the same day.
As a small retailer, the enormous chain that is apparently needed to serve the customer well and to keep the conversion rate high in your checkout can almost make you anxious. How can you as a retailer respond to this Same Day trend? We are happy to tell you our ideas.
We make a distinction between the following ways to have a shipment delivered:
Next Day Delivery:
This is the traditional delivery via carriers such as PostNL, DPD, DHL eCommerce and GLS. This is usually within 24 hours, with the latest time for ordering being determined by the collection time agreed with the carrier. Delivery is usually between 9am and 00pm on the next working day. The carrier will indicate a time window in the morning during which delivery will take place. With many carriers you have the option up to one day before delivery to postpone delivery, deliver to a parcel shop, to a specific neighbor or to obtain drop permission so that the courier can leave the shipment in your garage or porch.
Same Day Delivery:
This is same day delivery. Usually within 12 hours with delivery between 17:00 and 22:00 in the evening. Companies that offer this service are DHL Today and Trunkers. These are specialists who only offer this evening delivery. These modern carriers often let you follow a shipment live.
Direct Courier:
This is a driver who collects the shipment from the retailer and takes it directly to the recipient without using a sorting center. This service is similar to getting in the car yourself.
Super Fast Combined Delivery:
An item is delivered within a few hours from a store or warehouse in the nearest city. A warehouse in the city is also called city fulfillment or Forward Stock Locations (FSLs). Wuunder offers this service, for example, in combination with local bicycle couriers. As a customer, you can often choose between direct delivery or delivery in the morning, afternoon or evening on the same day.
Flash Delivery:
This is same day delivery within approximately 10 minutes. Gorillas, Flink, Zapp and Getir offer this service, especially for items that you normally buy in the supermarket. You can also follow the delivery person live here. Research by Wuunder shows that 26% want to receive groceries ordered online the same day. However, 86% think delivery within 10 minutes is excessive.
Pick up yourself in the store (buy online, pick up in-store):
the buyer can make a choice online for a product that can be picked up the same day in the local store. Because Same Day Delivery is not possible via parcel points (which are usually not open until 22:00), this service is only possible at a retailer with physical stores.

One of the options that we do not mention is night delivery, because it is used almost exclusively by companies. This also requires cabinets on the outside wall, a key system to access the location or the trunk of a mechanic.

Costs and risks of delivery options
Next Day Delivery:
This is one of the cheapest transport options if speed is not relevant for the buyer. The retailer can keep its products in stock centrally and carry out the pick & pack activities, or fulfilment. The carrier has economies of scale, because shipments can be delivered in long routes.
Because the shipment has to be transported over several sorting centers, the chance that the delivery will be delayed is between 5 and 10 percent depending on the period of the year. Around the holidays, the chance of a delay can rise to between 20 and 40 percent.
Same Day Delivery:
Here too, the retailer can carry out the fulfillment centrally. Most carriers here work with a star network. The driver collects all parcels in his hometown and on the way to the central sorting center. This is followed by a sorting operation and the driver drives back home where he delivers all consignments. This makes transport costs about twice as expensive as next day delivery. To avoid having to pick up only one package when picking up, you see that some carriers also use parcel shops where retailers can deliver the shipments. The environmental impact of same day delivery is large, because more kilometers are driven with less efficient vehicles. That is why you see that these carriers strive to deliver all shipments with electric vehicles.
Because the shipment usually only has to be transported via one or a few sorting centers, the chance that the delivery will be delayed here is smaller. However, because many more kilometers are driven, the risk of delays due to traffic jams is high. This is especially true for customers at the end of a route. After 22:30 it is really no longer possible to deliver, so there is virtually no room to make up for a delay. At the start of the holiday periods, on Fridays and on the day before a public holiday, the impact of traffic jams is great. As a result, the delivery quality drops to about 90 to 95 percent.
Direct Courier:
This service is possible from any location, because the driver is flexible. The arrival time from the location where the driver is located to the pick-up point determines the speed of pick-up and delivery. Billing is usually done per kilometer driven, including the approach kilometers, the way there and the way back. Please check this carefully before you agree.
Usually 100 percent is delivered on the same day (within the Netherlands) and the service is completely dependent on the speed at which the driver can drive the journey.
Super Fast Delivery:
For this you need a local stock, which makes this almost only possible for retailers with physical stores. There are also parties that can do the fulfillment for you locally. In the Netherlands you need about 15 to 25 locations to be able to offer a large part of your buyers these fast deliveries. From these locations, the orders can be delivered by a bicycle courier by a bicycle courier. The bicycle courier drives a route past several receivers. So it's a very green method. Fulfillment is more expensive, however, because rents in the city center are higher than in an industrial area. However, costs are saved because no outer packaging is needed, because it is transported in small quantities in a bicycle bag or cargo bike. So no time is lost with packaging the packages. This way you reduce costs and the number of actions.
The risk of late delivery is virtually nil, as goods are locally available and bicycle couriers can quickly correct errors. Because we work with time frames and in the checkout it can be prevented that too much has to be delivered at once, the quality is extremely high.
Flash Delivery:
This is a model that is currently (July 2022) under heavy fire, as the delivery is performed like a pizza delivery. Each order is delivered individually by a bicycle courier. To guarantee a delivery within minutes, this requires an enormous number of locations. Joining the big boys who want to invest in this is the only option. Delivering only one package at a time and always returning empty to the Darkstore on a bicycle is very green but totally inefficient. Here too, the quality is extremely high and the peak in demand at certain times, such as around dinner time, in particular, is the cause of quality loss. Because customers expect this fast service, it is not possible not to show the service in the checkout at peak times.
Pick up yourself in the store:
This may well be the cheapest solution, as the central delivery to the local store can be performed extremely efficiently. A truck that delivers a pallet is of course always cheaper than a carrier that has to deliver 20 separate packages to various locations. Strangely enough, picking up in the store is often more environmentally harmful than having it delivered via Superfast Delivery or Next Day. One car in the street is less taxing than a hundred cars driving to a parcel point or the store to pick up the products.
It is good to mention that a combination of two delivery services can provide a cost saving for a retailer. For example, a company that is forced by its competitors or colleagues to offer "ordered before 23:59 pm, delivered tomorrow" will have to let staff work late in the warehouse. An extra late delivery must also be agreed with carriers. Carriers only want to offer this for very large volumes. By giving orders during the day to a Next Day carrier and all orders that arrive after collection to a Same Day carrier, the warehouse can simply close at 17 p.m.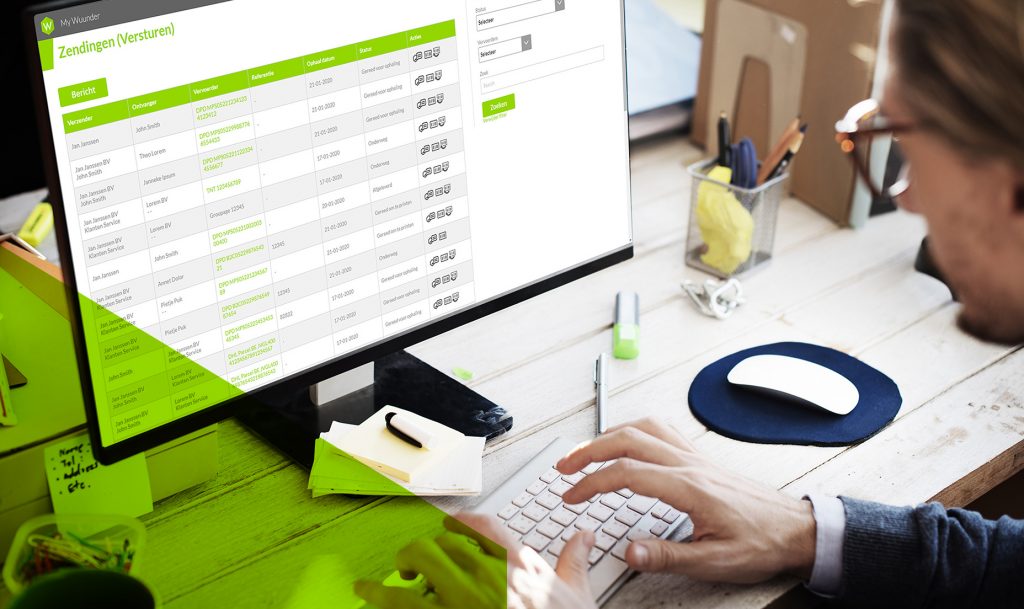 Next Day Delivery:
This is of course the one size fits all and is often an excellent solution for all consumers and companies.
Same Day Delivery:
With no local stock required, almost all products can be delivered in the evening and is also an excellent option for products that customers are willing to pay extra for. Especially with fresh products, but also birthday gifts and products that you can't live without for a minute, such as a mobile phone.
Direct Courier:
This is particularly interesting for customers who want to be 100% sure that a shipment will be delivered, such as with more expensive shipments or line-stoppers where speed is important.
Super Fast Delivery:
In particular, these are the products you would go to a store for if you didn't receive them the same day. Because the stock has to be deposited locally, this is only possible with products that are in high demand. So a limited range. Examples are, for example, mobile telephones or promotional products such as Vliegenwinkel.nl, Ibood or Tommy Teleshopping.
Flash Delivery:
Here the focus is on young consumers who spontaneously want to organize a party or who have forgotten to buy groceries.
Pick up yourself in the store:
As a buyer, if you want to be 100% sure that an item in the store is available to you, then have it delivered to a store. Also useful, of course, for consumers who nevertheless go to the shopping center or for gifts that cannot be delivered at home.

Delivery options must be communicated at time of purchase. Both in a physical store and online, this is the moment when buyers drop out. By offering various delivery options in the checkout of your e-commerce system, customers can choose the delivery speed that they prefer. By showing the costs of the different delivery methods, buyers can immediately determine whether the extra speed is worth the extra cost for them.

With systems such as Wuunder, you can show your customers all delivery options, delivery times and rates at the touch of a button. Because Wuunder takes over the transport management from you, working with multiple carriers does not mean that you will also have more work in managing these carriers. You leave that to Wuunder! As a retailer you only communicate with one party. Wuunder detects delays, chases the carrier and communicates with the recipient. If you let us organize the city fulfillment with super fast delivery, you offer your customers an unusually fast service.
Learn more about how we can help you Verwuweerd?
Create an account immediately. 👇️
Activate your account within minutes and immediately start shipping smarter.