Completion of missing data
If you want to choose a standard shipping method or if you have not recorded the volume and / or weight of each product in your webshop, Wuunder can help to fill in missing data. Easy through it Settingsmenu from MyWuunder.
We use this standard information when booking via a webshop shipping module, one of our APIs, an order placed manually or via Bulk books is booked in MyWuunder. You will discover how this is added during the booking here.
Open it Settings menu in MyWuunder and choose "standard settings" so you can book faster via a regular carrier. For example, if you only want the cheapest DPD service to be chosen, choose DPD Cheapest. If your favorite is not listed, please check with the customer service from Wuunder.
Use smart import rules and / or shipping rules if you don't always want to use the same service. This makes it possible to always use DHL Parcel to Germany, for example, for mailbox parcels within the Netherlands PostNL or you can insure a valuable shipment extra. By automatically selecting the transport services you save a lot of time again.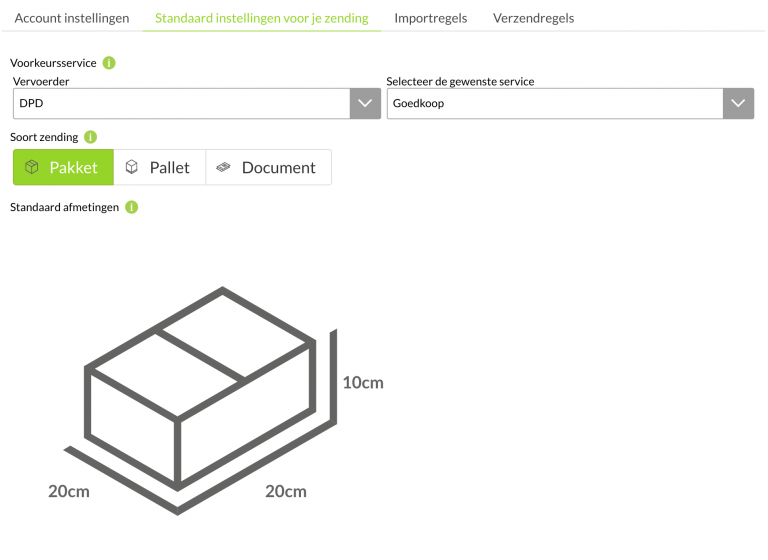 USE A STANDARD VOLUME AND WEIGHT
If you almost always send documents, packages or pallets, you set these as standard. A document is almost always delivered by the driver without ringing the bell. If you want a signature, sending via a package is smart. Above 30 kg, a shipment usually has to be provided with a pallet.
If you have not stored volume or weight per item in your shop, you can add these values ​​by default. If your shop gives one or more values, we will of course use them.
We use the description of the goods on the shipping label if an order number is missing. We also use this text in the e-mail to the recipient. If you want a standard text here such as "thank you for your order", you can add it here.
The value is only used for specific carriers such as UPS, for example for insuring shipments.
If you want to send your company logo or another photo in the e-mail to your customer, you can upload this photo here.
Always save changes by selecting "Save Settings".
In MyWuunder you can go through it setup menu simply set the language and time zone you are in. Choose Dutch, German, French or English. Very easy!