You can quickly send a shipment in various ways. Via the Wuunder browser, an webshop system, an API connection or MyWuunder.
As soon as you send an order to Wuunder via a webshop system, an API connection (if you do not want to receive a label immediately) or MyWuunder you come to one overview page with all the information needed to book a shipment. When you have checked these, click on "Request rates".
Transport Service Selection
1. You are now in an overview where you determine how you want to send the shipment. You can let Wuunder determine the most suitable carrier for your shipment:
- Cheap: the most economical method to send the shipment, but often also the slowest.
- Efficient: this is a solution between cheap and fast.
- Fast: the fastest possible method. If it needs to be even faster, it is possible via a direct courier. Then give us a call.
2. The preferred service indicates which service your customer chose in the check-out or the service that you sent via an API connection. If no service is pre-selected, we select the standard service you have set. If you have not defined a standard service, we will already select the cheapest service.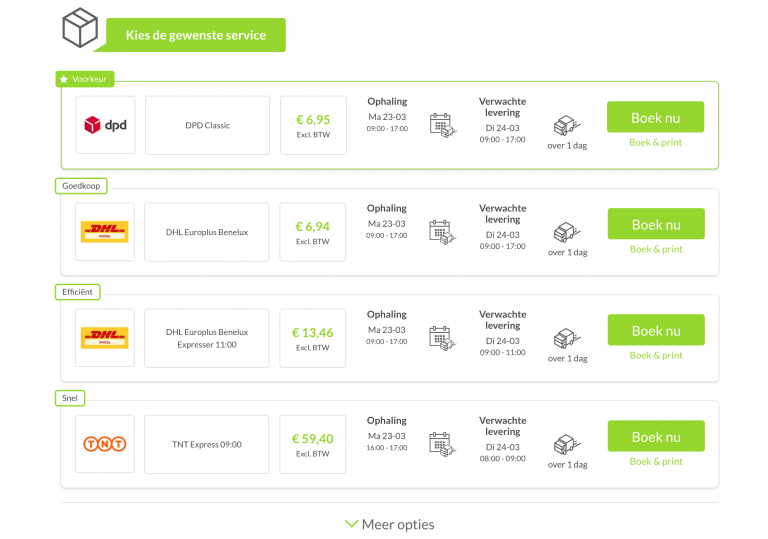 3. You can send a shipment in many different ways, whereby you can determine the desired tempo. You discover in which ways you can send in this manual.
4. Is there a carrier or service missing from the overview? Let us here then know for a moment. You can always click on the "Call me back" Click the button and our team will help you book the shipment. It's that easy!
5. Ask for advice if you want to send a very important shipment that has to be delivered before a certain date or a very valuable shipment: we are happy to help you! Avoid unpleasant surprises and always check the national holidays when you send to another country. As a result, it often happens that your shipment takes longer to arrive than expected.
6. As soon as you press book now, the shipment will be booked and we will arrange for the shipment to be collected for you, if necessary. If you click on Book & print, the shipping label will be printed immediately. This is what the 1-click Printing app necessary. Click here if you want to know more about using Book & print.

7. After you have booked the shipment, we will ensure that you return to the order page of your webshop or to the draft overview MyWuunder. Here you will also find more information if the booking of the shipment has failed.
8. Now you can print the required shipping label via your mobile, browser, webshop or in MyWuunder. In MyWuunder, you can also print shipping labels in bulk (print multiple labels at once) or print labels with a scanner. You will find all the options for printing shipping labels here.
Ask? Then contact us [email protected]